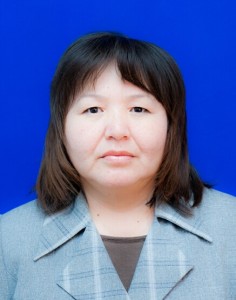 SUMMARY
Full name, date of birth: Zhunussova Gulnara Yergalievna, February 07, 1965.
Work experience: total experience – 40 years, scientific and pedagogical experience is 10 years.
Position: Senior lecturer of "Mine surveying and geodesy" department.
What University, specialty and when graduated: In 1995, graduated from the Moscow State Mining University "Mine surveying".
Academic degree, academic rank: Candidate of Technical Sciences in the specialty 25.00.16 – Mining and Oil and Gas Geology, Geophysics, Surveying and Subsurface Geometry, 2010, KSTU.
Work in departments, including dates of employment and positions held:
1984 – 1987
Mine Surveyor at the Dolinskaya Mine in the mine surveying department.
1987 – 2000
Chief Engineer of "Sredazugolholding" union
2000 – 2003
Court bailiff at Leninskiy court
2003 – 2010
Senior lecturer at the Department of Mine Surveying and Geodesy
2010 – 2011
Deputy Director for Educational Work of the Mining Institute
2011 – up to the present time
Head of Quality Management and Accreditation Center
Main scientific interests: Study of geometrization and peculiarities of mineral deposits, providing digital technologies for mine surveying at open pit and underground mines, development of methods and programs for monitoring the condition of engineering and anthropogenic structures.
Main publications:
As part of self-contractual works with mining enterprises of Kazakhstan. Published over 160 scientific papers, 2 monographs in co-authorship, 14 textbooks, and more than 70 guidelines, 4 SIS, participation with publications and presentations at international scientific conferences, forums, conventions.
The disciplines read in the academic year: Methodology and methods of scientific research, Forecasting and expert evaluation of transport equipment, Production operation of technological machines, Mechanization of loading and unloading operations, Operation of machines for earthworks, Basics of technical operation of TT.
Advanced training:
09/2008
Courses on the basics of professional pedagogy (certificate, Karaganda State Technical University)
04/2009
Numerical methods of assessment of stability of mine workings" courses (certificate, Karaganda State Technical University)
10/2011
Forum "Mine survey in the XXI century" (certificate, Leica Geosystems)
12/2011
Courses "Fire safety" (certificate, Karaganda State Technical University)
12/2011
Seminar "Methods of quality management system effectiveness increase" (certificate, TUV International RUS)
12/2011
Seminar "Application of EFQM excellence model as a tool for innovative development of educational organizations" (certificate, Ukrainian Quality Association)
02/2012
Courses "Quality Management Systems according to ISO 9000:2005″ (certificate, Karaganda State Technical University)
03/2012
Conference "The Bologna process: Vehicle of Modernization of Higher Education" (certificate, KIMEP University)
03/2012
Seminar on academic ranking of Bachelor's degree programs (certificate, National Accreditation Center of the MES RK)
04/2012
Seminar-training "Adapting the Basic Components of the Bologna Process in the Higher Education Institutions of Kazakhstan" (Certificate, National Accreditation Center MES RK)
06/2012
Seminar "Universities autonomy as a mechanism to improve the competitiveness of higher education in Kazakhstan" (certificate, Information and Analytical Center, MES, European University Association)
08/2013
"Training of expert-auditors on confirmation of compliance of the quality management system" (certificate, Management System Astana LLP)
02/2014
Seminar "Accreditation: external audit, methodology of expertise – international and national approaches" (certificate of expert, Independent Kazakh Agency for Quality Assurance in Education)
02/2014
Seminar "Times higher education world university rankings and Kazakhstan universities" (certificate, British Council)
04/2014
Seminar-training "Development of the intra-university system of quality assurance in education
04/2014
Seminar "International standards for sustainable development" (Certificate, AFNOR RUS International Certification Service)
04/2014
Seminar "Preparation of the report on self-assessment of HEI in the framework of specialized accreditation" (certificate, Independent Kazakh Agency for Quality Assurance in Education)
06/2014
Courses on the training of specialists in the field of technical regulation and metrology (certificate, Kazakhstan Institute of Standardization and Certification)
07/2014
Courses "Quality Management Systems in accordance with ST RK ISO 9001-2009. Training of quality managers" (certificate, Management System Astana LLP)
10/2014
Seminar-training "Stability control and management systems" (certificate, Research Institute of Geodesy, Topography and Cartography, Prague)
11/2014
Seminar "Advanced training of teaching staff of universities on metrology" (certificate, KazInMetr)
06/2015
Courses "Implementation of Good Laboratory Practice (GLP) principles" (certificate, Institute of Technical Regulation, Standardization and Certification)
06/2015
Courses "Training of expert-auditors on confirmation of compliance of the quality management system" (certificate, Management System Astana LLP)
07/2015
Certificate of expert-auditor
08/2015
Seminar "Physical methods of determination of strength and strain characteristics of mineral structures" (certificate, Scientific and Practical Center for Materials Science of the Academy of Sciences of the Republic of Belarus)
Contact information: office phone 56-26-27