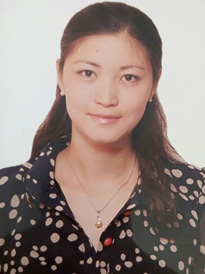 Faculty: Mechanical Engineering
Academic degree: Master of Technical Sciences
Academic title: teacher
Post: Lecturer of the Department of "Nanotechnology and Metallurgy"
Biography:
Omarova Aidana Yerzhankyzy, born January 24, 1989 in the Karaganda region of the Republic of Kazakhstan, Kazakh, higher education, graduated with honors from Karaganda State Technical University in 2010 with a degree in Mechanical Engineering. Specialist in metallurgy, nanotechnology and materials science.
In the period from 2013 to 2015, she studied at the magistracy of the Karaganda State Technical University in the specialty "Metallurgy", which she graduated with honors.
In 2010, she worked at the Karaganda State Technical University, at the Institute of Advanced Training as a methodologist, in the same year in June she transferred to the position of senior laboratory assistant at the Department of Welding and Foundry Production, and also in 2012 she taught at the Technological College at KarSTU.
In 2012, in the month of April, she successfully completed courses at the Research Institute of EOT. The First President of the Republic of Kazakhstan, KarSTU.
In 2013, she enrolled in a master's degree in Metallurgy. In 2014, during the period from April 19 to May 4, she completed internships at Harbin Polytechnic University (Harbin, China) She has published 4 articles on her master's topic.
In 2015, on June 15, she successfully defended her master's thesis on the topic "Development of technology for strengthening elements of mine shaft reinforcement".
Since August 3, 2015, she has been employed at the Department of NTM as an assistant, is the curator of the Mt-15-2b-15-1c group. Since 2017, she has been elected to the position of a teacher of the Department of NTM and is currently the curator of gr. MV-21-1.
Omarova A.E. has more than 20 printed scientific and methodological works, including 4 textbooks, 4 articles in the journal "Metallurgija" (Croatia) with an impact factor of 0.77 Tompson Reauters.
Work phone: 8(7212) 565935 ext. 1024
Internal phone: 1024
Email address: aidana_kartu@mail.ru
Scientific works:
1. Theory and technology of ferrous metals production
2. Theory of mass and heat transfer in metallurgical processes