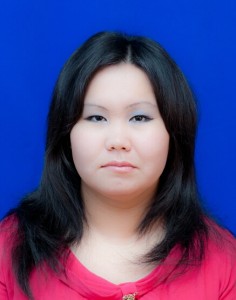 SUMMARY
Full name, date of birth: Jamantykova Raushan Nurkatovna, February 13, 1984.
Work experience: total experience – 16 years, scientific and pedagogical experience is 11 years.
Position: Senior lecturer of the Department of Mine Surveying and Geodesy.
What University, on what specialty and when graduated: Karaganda State Technical University, "Mine Surveying" in 2006, the Academy of Law "Themis" on specialty "Finance" in 2009.
Academic degree, academic rank: Master of Engineering and Technology – "Metallurgy" 6M070900 educational trajectory "Innovative technologies in mining and metallurgical complex. Geotechnics", 2019, KSTU.
Employment in departments, including dates of employment and positions held:
2006-2011. – 2006-2011 Tsentrgeolsemka LLP, topographer
2011-2012. – Assistant in "Mine Surveying and Geodesy" department
2012-2014. – lecturer of Department of Mine Surveying and Geodesy
2014-present – senior lecturer in the Department of Mine Surveying and Geodesy.
Main research interests:
In Geodesy and Mine Surveying, Digital Aerial Surveying.
Main publications:
In the last 5 years 9 scientific papers, 3 monographs, 6 thesis reports, 2 articles – CCSON, 3 SIS; 3 manuals have been published.
Subjects read in the academic year: Mine surveying, Mine surveying for underground mining, Applied photogrammetry, Higher geodesy, Photogrammetric processing of aerospace images, Analysis of accuracy of surveying and geodetic measurements, Theory of mathematical processing of Mine surveying and geodetic measurements, Automated methods of geodetic measurements and laser scanning
Advanced training:
September-December 2015 – courses in engineering pedagogy
Grant trip to universities in Germany under the program "Study tour of the student group to Germany" of the German Academic Exchange Service (DAAD) from 14.10.2018 to 26.10.2018
From 16.04.2018 to 27.04.2018. St. Petersburg Mining University scientific training on the program "Assessment and control of the stress state of the rock massif in the development of ore deposits.
from "08″ June 2020 to "20″ June 2020. KSTU, Engineering Pedagogics Center, "Efficient application of DOT based on Moodlt toolkit".
Geoinfo LLP on the program: "Possibilities of using ArcGIS geoinformation systems in preparing bachelors and masters in Geodesy and Cartography educational program
Contact information: telephone 56-26-27