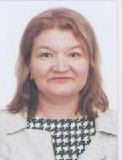 Master of Economics, senior lecturer, Department Of engineering entrepreneurship and marketing»
In 1996 she graduated from the Karaganda Order of the red banner of Labor Polytechnic Institute, specialty: "Economics of management in mechanical engineering", engineer-economist
In 2012, she graduated from the master's degree at Karaganda University "Bolashak", specialty 6M050600″ Economics " — master of economic Sciences.
Since 2006 he has been working at Karaganda state technical University at the Department of Engineering entrepreneurship and marketing.
In 2008-2010, Deputy Dean for educational work FIEM.
2014-2016, Deputy Dean for academic Affairs of FIEM.
Conducts classes in the following disciplines: Business planning, enterprise Economics, enterprise Economics and engineering entrepreneurship, Fundamentals of investment projects, Fundamentals of engineering entrepreneurship, Economics and management of mining, Marketing and business planning.
Internal phone: 2029
Email address: daenatela1@mail.ru