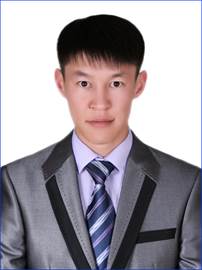 FacultyofEngineering
Academic degree: master of engineering Position: Senior Lecturer, Department of Nanotechnology and Metallurgy
Biography:
Aitbaev Nurlan Berikuly was born on 23 March 1989, Karaganda region, Aktogai district, s. Saryterek. Nationality-Kazakh. Social origin of servants.
After high school, named Zh. Kenesbaev Saryterek village, Aktogay district, Karaganda region in 2007 and in the same year he enrolled in the Karaganda state technical University with a degree in 5В070900 «Metallurgy».
In 2011 he graduated from Karaganda state technical University with honors, by the decision of the State attestation Commission of the University from 16.06.2011 year was awarded the academic degree «BACHELOR» of metallurgy, 2011, she enrolled in a master's degree in 6М070900 – «Мetallurgy». In 2013 I graduated with a thesis on «Research and development of manufacturing technology of iron casting working in conditions of thermal cycles» with awarding the academic degree master of technical Sciences, received the second higher education on specialty 5B051000 «Public and local management».
Aitbaev Nurlan Berikuly working at the Department «Мetallurgy, materials science and nanotechnology» 2012.
Conducted laboratory and practical classes in groups of different disciplines for the following specialties: 5В071200 «Еngineering» and 5В070900 «Мetallurgy». Participates in the development of guidelines for laboratory work and practical training. Takes an active part in international scientific conferences. Actively participates in the organizational and methodological work of the Department and the Institute.
Mastered computers, I took courses in new computer technologies and work on computers «Сomputer graphics: Corel Draw, AutoCAD», «WEB technology, development of WEB pages, the Use of interactive learning tools in teaching», «Multimedia». Performs academic load, conscientiously engaged in educational, methodical and scientific work.
He is a very open and friendly person, which is evident from his good relations with colleagues. In General, he has excellent communication skills.
Constantly improves his professional skills, in addition has many qualities such as creativity and the ability to work independently, is the curator of the group MET-17-3.
Work phone: 56-75-98
Internal phone: 1024
Email address: nurlan_2303@mail.ru
Кристаллография и металлография
Конструкционды материалдар технологиясы және термоөңдеу