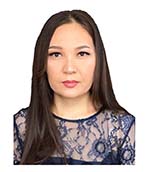 Facilty : Maсhine-building
Depаrtment : Foreign languages
Academic Degree: Master of Arts
Position: teacher
Education:
2003-2007 KIAE "BOLASHAK", specialty "Foreign language: 2 foreign languages", qualification "Teacher of English and German languages"
2012-2014y. Central – Kazakhstan Academy, specialty «Philology», qualification «Мaster of Arts»
Work experience:
2007- present, teacher at «Foreign languages department»
Scientific and methodical work:
More than 10 scientific and methodical works, scientific articles, electronic textbooks, etc.
1. Магауина Г.М.. «Жоғарғы техникалық оқу орнында көптілділікті оқытудың ерекшеліктері»// Актуальныепроблемысовременностиаттыхалықаралықғылыми-журнал, 23-24 сәуір 2012 жыл. – Караганда: Қарағанды Болашақ Университеті, 2 С.34-37.
2. Beiskhanova S.A., Magauina G.M. «Positive and negative effects of Multimedia on foreign language teaching» // 1st International Scientific conference "European Applied Sciences: modern approaches in scientific researches" , 17-19th December 2012, volume 1, Germany, Stuttgart
3. МагауинаГ.М., БейсхановаС.А., "Экономикалық интеграция жағдайында бәсекеге қабілетті мамандарды даярлаудың қазіргі заманғы үрдістері" халықаралық ғылыми тәжірибелік конференциясының материалдары. «Тілдік емес ЖОО көптілділікті оқытудың ерекшеліктері.» // Карагандинский Экономический Университет Казпотребсоюза, Караганда 2012г.
4. Магауина Г.М., «Международная научная конференция студентов, магистрантов и молодых ученых. Ломоносов-2012 // тезисы докладов// 13-14 апреля 2012года.» Функционирование модифицированных парамеий.
5. Магауина Г.М. «Язык. Время . Пространство 2013» // Материалы международной научно- практической конференции- Центрально-Казахстанская Академия. «Омонимдердің казақ және ағылшын тілдеріндегі ерекшеліктері.»
6. Бейсханова С. А., Магауина Г.М. Вестник Томского государственного университета. Научный журнал. «Полиязычное образование как инструмент становления компетентного специалиста». // 2013.9 (137)
7. Тоимбаева Б.М., Магауина Г.М. Свидетельство о государственной регистрации прав на объект авторского права под названием «Metallurgy»- электронный учебник, № 1328, 2014г.
Scientific and pedagogical interests:
1. Teaching English as a foreign language
2. Professional and pedagogical education
3.Professional-oriented foreign language teaching
Interoffice telephone: 11-52
E-mail address – Gulba_85@kstu.kz