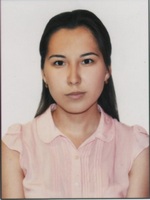 Master of Pedagogical Sciences
Education:
2013-2017 г. Bachelor's degree. Faculty of Philology, Eurasian National University. named after L.N. Gumilyov. Diploma with honors, specialty: "Foreign language: Two foreign languages".
2017-2019 Master's degree, Department of Foreign Languages. Karaganda State University named after. E.A. Buketov, specialty "Two foreign languages".
Work Experience:
2019-2021- an English teacher in an educational school, English translator.
2021-present – assistant of the Department of Foreign Languages at KarTU.
Scientific and Methodological Works:
1. Professional competencies of EFL and ESP teacher – Areas of scientific thought – 2017. Materials of the XIII International scientific and practical conference. Vol.7. – Sheffield, 2017. – Р. 6-11.
2. Кәсібимақсаттарғаарналғанағылшынтіліноқытуерекшеліктері – Buketov`s readings – 2018: Scientific and practical conference of undergraduate and graduate students (29th -30th of March). – Karaganda, 2018. P. 280-284.
e-mail: nazerke96g@mail.ru