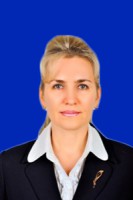 Golovacheva Victoria Nikolaevna
Faculty of Innovative Technologies
Academic degree:   Doctor of Education.Doctor Ph.D.
Academic title: Assistant professor
Position: Assistant professor
Biography
In 1990 she graduated from the Karaganda Pedagogical Institute with a degree in computer science, mathematics and computer engineering.
In 2002 she defended her thesis for the degree of Candidate of Pedagogical Sciences. in KarSU them. E. Buketov on the topic "Integral method of knowledge assessment as a means of improving the quality of education" in the specialty 13.00.01 – General pedagogy, history of pedagogy and education, ethnopedagogy.
In 2005 she received the academic title of associate professor of the specialty "Pedagogy". 2008 – 2011 – Doctoral studies at the PhD Eurasian National University. L.N.Gumilev in the direction of 130000 – Pedagogical sciences.
In 2010 she defended her thesis for the degree of Doctor of Pedagogical Sciences in the specialty 13.00.08 – Theory and Methods of Vocational Education on the topic "Theory and Practice of Personnel Training in Information Technologies" of the ENU. . L.N.Gumilev.
In 2011 she defended her thesis for the degree of Doctor of Philosophy in the specialty "Education" in the Kazakh State Pedagogical University named after the Applicant "Scientific basis for the training of professional personnel in the field of information technology (for example, specialty 050703 Information Systems)"