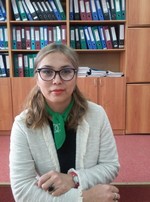 Scientific (academic degree) master of technical sciences
Position senior lecturer Zhunusbekova Gulden Ermukhanovna
She has been working since 2002 at the Department of the GEMD.
- she has been working as a senior lecturer on the subjects of "General and Historical Geology", "Geomorphology and Quaternary Geology", "Laboratory Methods of Mineral Research", "Geoecology" in Russian and Kazakh languages since 2007.
Responsible for the study practice. She was actively engaged in scientific work through participation in scientific and practical and international conferences, and also supervises the participation of students in scientific research work with students.
Since 2002, conducts educational work of students as a curator.
Since 2009, she is responsible for the electronic educational resources of the department.
Since 2010, she served as the senior curator of the department.
Since 2011, she was responsible for career guidance in the department. During her work at the department she published more than 10 scientific articles and abstracts, is the author of 1 textbook in the state language, 3 guidelines. Co-author of 2 guidelines, 5 electronic textbooks, 4 slide lectures, has 6 certificates of professional development.
In 2019, she graduated master cource, during her studies she released 2 slide lectures "Spectroscopic methods", "Assessment of the natural state of the geological environment" and 2 publications, has 2 certificates of professional development.
В 2019 году закончила магистратуру, за время учебы выпустила 2 слайд лекции «Спетроскопические методы», «Оценка естественного состояния геологической среды» и 2 публикации, имеет 2 сертификата по повышению квалификации. At the department, she is responsible for the magistracy.
Curator of the group GPR-19-1.