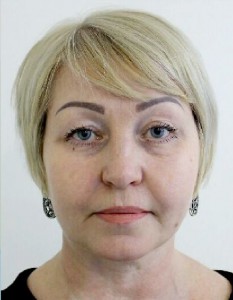 Faculty: Faculty of Architecture and Civil Engineering
Department: Russian Language and Culture
Academic degree: Master of Pedagogical Sciences
Position:Lecturer
Education:
1986-1991 – Karaganda State University, specialty "Russian language and literature"
2000-2002 – Karaganda State University named after E.A. Buketov, Faculty of Languages, specialty "Translation";
2017-2019 – Academy "Bolashak," Karaganda State Technical University, academic master's degree in pedagogical sciences.
Scientific and teaching activities:
Author of more than 20 scientific articles in rating journals, theses, reports at conferences of international and republican levels, certificates of intellectual property authorship (ICU); teaching aids in the Russian language «Синтаксисрусскогоязыка. УровеньС1» (2021), «Russian language for future engineer»; толково-терминологическогословарядлястудентовархитектурно-строительногофакультета (казахско-русско-английский) (2019); монографии «Motivational processes and nominative аrea of the terminological subsystem» (2022), study guide «Тау-кенфакультетініңмагистранттарыменстуденттерінеарналғанмамандықтілібойыншалексикалықминимум. Лексический минимум по языку специальности для магистрантов и студентов горного факультета. Lexical minimum in the language of the specialty for undergraduates and students of the mining department» (2023), manual «Орыс тілінің синтаксисі бойынша практикум. Күрделі сөйлем» (2023).
Digital Content Developer:
- курс видеозанятий по дисциплинам «Русский язык», «Профессионально-ориентированный русский язык»;
- МООК (массовый открытый онлайн-курс):
1. «Преподавание русского языка как иностранного»;
2. «Коммуникативно-ориентированное обучение РКИ в аспекте деятельностного подхода»;
3. «Профессионально- ориентированный русский язык для студентов ОП «Машиностроение»;
4. «Профессионально- ориентированный русский язык для студентов ОП «Строительство».
Scientific work of students:
Carries out scientific leadership of students taking part in olympiads, competitions, forums, scientific conferences of international, republican, regional levels.
Carrying out educational work as a tutor.
Information on advanced training: 
2021 г. – «Актуальные аспекты непрерывного образования: школа-колледж-вуз (в рамках дистанционного обучения) (Караганда, КарТУ);
2022 г. – Использование инструментов цифровизации в условиях личностно-ориентированной среды (Караганда, ЦСССПИР);
2023 г. – «Методика преподавания русского языка как иностранного в техническом вузе» (Россия, г. Иваново);
2023 г. – «Инновационные образовательные технологии в учебном процессе
высшего учебного заведения» (Караганда, Білім).
Research interests:
Modern approaches in teaching the Russian language in the context of digitalization.
Internal telephone: 2046
E-mail: dokuchaeva_natali@inbox.ru