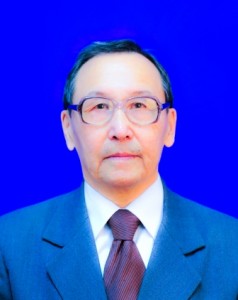 date of birth: 01/01/1942Position: Professor
Education: 
Karaganda Polytechnic Institute, specialty "Industrial civil engineering" 1959-1964
Qualification:
Construction engineer
 Experience:Production experience – 7 years
1964-1970 years– master, foreman, engineer in the construction organizations of the trust Karagandashahtostroy.
1968 – 1971 years – engineer design institute Karaganda-NIIpromstroyproekt.
Scientific and teaching experience –38 years1971 – 1973years– PhD student at IISS;
1973-1993 years – Researcher of the KMI of the Kazakh SSR;
1993-2019 years – Associate Professor, Professor of the Department "Building materials and technology" KSTU.
2015 year- and to the present – Senior Lecturer of the Department of "Building materials and technologies "KTU ;
Training:- 30.06.2016 – Certificate number СG 06161375 – Basics of computer literacy;- 30.06.2016 – Certificate number IN 06161378 – Basics of the Internet;
- 30.06.2016 – Certificate No. MW 06161380 – Basics of working with Microsoft Word;
- 30.06.2016 – Certificate No. 3D 06161382 – Basics of working with the graphic editor 3ds max;- 29.06.2016 – Certificate of IDP Group LLP "-" Production of hot-dip galvanized steel corrugated structures ";
- 14.05.2018 – 27.06.2018 years – Certificate №00069 – language course "Basic English (Module 1)", level Beginner A1;
I own programs AutoCAD, Lira.

The list of readable disciplines:Building construction; Design calculation of welded steel products for reinforced concrete structures; Evaluation of buildings and structures; Inspection of building structures and reconstruction of buildings and structures; Basics of design and computer graphics; Architecture of civil buildings.Publications:
Journal of Fundamental Research; Penza; Number 3, 2014 part 2. Impact factor RISC (2011) -0.193. "Analysis of the raw material base of the Republic of Kazakhstan for the production of anti-corrosion and flame retardant materials";- International Journal of Experimental Education, Moscow, (RISC 0.532); №3, 2015 "Study of the stress-strain state of a skip copra, taking into account the spatial work of the structure";- International Journal of Science (Young scientist); Number 6, 2017 (Part 1). "Evaluation of the activity of the original rust phase composition in the preparation of the surface before painting";

- Proceedings of the University №4, 2018. Study of the causes of bin consolidation.
Tutorials:
- tutorial"Euronorm boyynsha tas құralymmedard zhobalaudyуд negizi" Publisher KSTU, 2015;
- manual "Calculation of stone structures for Eurocodes." Publisher KSTU, 2015;
- manual "Automated calculations of building structures" in Kazakh language for the specialty "Construction". Publisher KSTU, 2017;
- tutorial«Krylys konstruktsalarynyғғaytudy esepteu zhane ryrylymdau». Publisher KSTU, 2017;
- Tutorial "Car zholdary change airfield for Jobalau". Publisher KSTU, 2018;.
Languages:Kazakh – native;Russian – free;English – (with a dictionary).