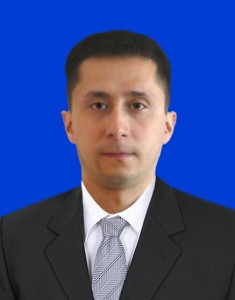 SUMMARY
Full name, date of birth: Nizametdinov Rinat Faritovich, october 14, 1980.
Work experience: total experience – 20 years, scientific and pedagogical experience is 13 years.
Position: Senior Lecturer of the Department of Mine Surveying and Geodesy.
Which university, in what specialty and when he graduated from: Karaganda State Technical University (KSTU), "Economics at enterprises ", in 2011.
Academic degree, academic title, academic degree: Candidate of Technical Sciences in the specialty "Surveying".
Work in departments, including dates of employment and positions held:
From 2002 to 2003 – intern researcher at KarSTU.
From 2003 to 2006 – postgraduate studies at KarSTU.
From 2006 to 2009 – Engineer at KarSTU
From 2009 to 2022 – teacher at KarSTU
Main scientific interests: studies of the geomechanical state of the edge massifs of quarries
Main publications: author of more than 40 scientific and methodological works, including: 1 monograph, 1 patent of the Republic of Kazakhstan, 2 certificates of state registration of the right to an object of copyright, 14 articles included in the Scopus databases, including 7 in the Thomson Reuters databases, 2 conferences included in the Scopus and Thomson Reuters databases, 3 textbooks have been published.
Subjects read in the academic year: Automation of surveying and geodetic measurements.
Training:
- internship at : NOVA ZINC LLP
- training in a refresher course: "In June 2021, advanced training courses were completed in the direction of "Effective use of DOT based on the use of Moodle tools"
- internship at : "Orken LLP"
- Training course: "HDS 8800 laser Scanner". 
Contact details: office tel. 56-26-27
Resources of the Republican Interuniversity Electronic Library
Мониторинг состояния бортов глубоких карьеров АО «ССГПО»
Исследование состояния устойчивости карьерных откосов в районе выходов угольных
Обоснование параметров внутреннего отвала на Шубаркольском угольном разрезе