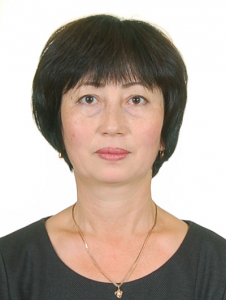 Faculty: Architecture and Construction
Department: "Russian language and culture"
Academic degree: Master of Humanities Sciences
Education:
1987-1992 – Karaganda State University named after E.A. Buketov, Faculty of Philology, specialty "Russian language and literature in the national school";
2018-2020 – Central Kazakhstan Academy, academic degree of Master HumanitiesSciences.
Position: teacher
Courses taught: Russian language
Scientific achievements: Author of more than 40 scientific articles and reports at the international and republican levels.
Author of the monograph "Zhan ұgymynyn linguisticalyқ sipattamasy alemnіn orys tilіndegі kөrіnіsіnde"; educational and methodological manual on the Russian language "Russian language for technical universities" (workshop); more than 10 certificates of state registration of intellectual property (IPS).
MOOC developer in the discipline "Russian language" for the specialty "Organization of transportation, traffic and transport operation" (2022); digital content in the disciplines "Russian language", "Professional-oriented Russian language" (video course).
NIRS: Implementation of scientific supervision of students participating in olympiads, competitions, forums, scientific conferences of international, republican, regional levels.
He is the curator and carries out educational work of the supervised group.
Advanced training: Passing advanced training courses in the CIS countries (TSPU, 2021; ISPU, 2023) and in the Republic of Kazakhstan (Karaganda, 2022) in order to meet the level of professional training online and offline.
For the successes achieved in improving the educational and educational processes, a significant personal contribution to the development of the higher education system, she was awarded diplomas and letters of thanks for her contribution to the training of young professionals in the higher education system of the Republic of Kazakhstan.
Work phone: 56-59-32
Internal phone: 2046
Email address: anar.kabanova@mail.ru