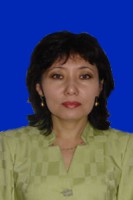 Sadanova Bakytgul Maratovna
Faculty of Innovative Technologies
Degree: No
Academic title: Master
Position: Senior Lecturer
Biography
Sadanova Bakytgul Maratovna, Senior Lecturer of the Department "Information and Computing Systems".
In 1992 she graduated with honors from the Karaganda Polytechnic Institute with a degree in Automated Information Processing and Management Systems.
In 2013, the master's degree in "Computer Engineering and Software".
Since 1992, she has been working at KSTU on a teaching basis.
Author of more than 10 electronic textbooks, 15 textbooks, 3 monographs, 4 certificates of state registration of intellectual property, 10 publications.