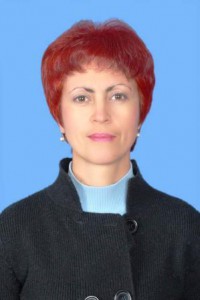 Senior lecturer, Department Of engineering entrepreneurship and marketing»
Graduate of Carpti in 1987. specialty "Industrial transport" with qualification "engineer of industrial transport", graduate of Karstu 1999. specialty 0702 – "Economics and management" with qualification "economist".
Teaching experience-19 years. Brief employment history:
1981-1992y. – copyist, draftsman, designer of the Department of Open mining in the sector "Highways" of Karaganda design Institute " Giproshakht»,
1992-1998y. – economist of sales Department of JSC "Teplopribor»,
2000-2001y. – leading specialist in the Department of industrial statistics of Karaganda regional Department of statistics,
2001-2002y. senior lecturer of the Department Of special disciplines of HMB (Institute of systems engineering and business).
2002-2009y. senior lecturer of TSS (technology and communication systems) Department of FEM Dean's office (Faculty of Economics and management).
Since February 1, 2010, senior lecturer of the Department of OP (Organization of production) Dean FEM, now the Faculty of engineering Economics and management.
In 2012, she graduated from the master's degree at Karaganda University "Bolashak", specialty 6M050600″ Economics " — master of economic Sciences.
The total number of scientific works – more than 35 in the field of Economics and communications, certificates of state registration of rights to the object of copyright — 4.
Conducts classes in the disciplines: Economics and management of the enterprise, Economics and organization of production, Economics and organization of the enterprise, engineering entrepreneurship, enterprise Economics and engineering entrepreneurship, enterprise Economics, Fundamentals of engineering entrepreneurship, Marketing and business planning, Marketing communications, Engineering Entrepreneurship, Marketing and Business planning.
Educational and methodical work: 8 electronic educational and methodical works, including 4 electronic textbooks, 3 slide lecture, 1 video lecture.
Passed courses of improvement of qualification:
- SPRINGER NATURE TRAINING Certificate October 27, 2017;
- "Management in education" 06.11.17, 10.11.17 city University, Centre for engineering pedagogy;
- "Modern technologies of management in education and business", from 02.04.18 to 21.04.18, Karstu, Center of engineering pedagogy;
- NCE RK Atameken "Development of professional competencies of the teacher of the course "Fundamentals of entrepreneurship "" (80 acad.hours) from 19 to 29 August 2019.;
- in the direction of " Best practices of using Google in distance education technologies. The possibilities of using streaming when conducting classroom classes using the Youtube service " from 10.06.2020 to 26.06. 2020.
Passed internships:
- Internship in "Bastau Expert" LLP in the production department, from 02.04-18 to 23.04.18.;
- Internship in "EIC LTD" LLP (Karaganda) in the production department on-the-job. The training period is from 02.11.2020 to 18.12.2020.
Email: kuzykuzy@mail.ru