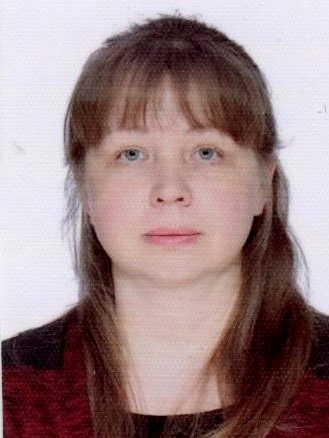 Faculty: Faculty of Architecture and Civil Engineering
Department: Russian Language and Culture
Academic degree: Master of Pedagogical Sciences
Position:Lecturer 
Education: 
Karaganda State University named after E.A. Buketov specialty "Russian language and literature"
Omsk State Pedagogical University, academic degree of Master of Pedagogical Sciences
Scientific and teaching activities:
Author of more than 20 scientific articles, theses, reports of international and republican levels, ICU (certificate of state registration of rights to copyright objects); textbook "Professional Russian language in a technical university: practical chickens" (2019), "Workshop on the Russian language and speech culture for students of technical specialties (level V1 – V2)" (2020), monograph "Motivational processes and nominative area of ​ ​ the terminological subsystem" (2022), Study guide «Тау–кен факультетінің магистранттары мен студенттеріне арналған мамандық тілі бойынша лексикалық минимум. Лексический минимум по языку специальности для магистрантов и студентов горного факультета. Lexical minimum in the language of the specialty for undergraduates and students of the mining department» (2023).
Digital content developer:
-  курс видеозанятий по дисциплинам «Русский язык», «Профессионально-ориентированный русский язык»
- МООК (массовый открытый онлайн курс) по дисциплине Профессионально-ориентированный русский язык для образовательных программ «Геология и разведка месторождений полезных ископаемых», «Горное дело», «Обогащение полезных ископаемых», «Технологическое оборудование, машиностроение и стандартизация» (2022г.)
Carries out scientific leadership of students taking part in olympiads, competitions, forums, scientific conferences of international, republican, regional levels.
She is a tutor and carries out educational work of the supervised group.
Informationonadvancedtraining:
2020 г.-«Стратегия современного вузовского языкового образования» (Караганда, ЦСССПИР)
2021 г. – «Актуальные аспекты непрерывного образования: школа-колледж-вуз (в рамках дистанционного обучения) (Караганда, КарТУ)
2022 г. – «Психолого-педагогические технологии организации инновационной деятельности педагога (русский язык, литература)» (Россия, г. Томск)
2023 г. -  «Методика преподавания русского языка как иностранного в техническом вузе» (Россия, г. Иваново)
2023 г. –  «Инновационные образовательные технологии в учебном процессе
высшего учебного заведения» (Караганда, Білім)
Scientific interests:
Development of digital competence of teachers
Distance learning, ICT in education
Modern approaches in teaching the Russian language
Work phone: 56-59-32
Internal phone: 2046
E-mail: cvetlana.iv1980@mail.ru