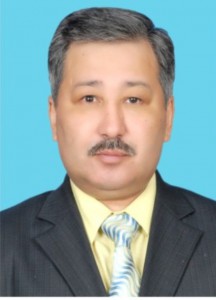 RESUME
Full name, date of birth: Akashev Arsen Zakirovich, August 29, 1959.
Work experience: total experience is 45 years, research and teaching experience is 33 years
Position: Associate Professor of the Department of "Industrial Transport" named after prof. A.N. Daniyarov.
Which university, in which specialty and when he graduated: Karaganda Polytechnic Institute in 1982, specialty "Industrial transport" – classification of industrial transport engineer.
Academic degree, academic title, academic degree:
- Candidate of Technical Sciences in the specialty 050505 "Lifting and transport machines", KazNTU, 1996;
- Associate professor (associate professor) in the specialty 05.22.00 – "Transport", 2019;
- Academician of the MAIN, 2014.
Work in departments, including dates of employment and positions held:
1987-1990 – postgraduate student of the Department of Industrial Transport
2002-2011 – Associate Professor of the Department "Industrial Transport"
2011-2014 – Head of the Department "Industrial Transport"
2014-2019 – senior lecturer of the Department "Industrial Transport"
2019-2022 – Associate Professor of the Department "Industrial Transport"
Production experience:
1982-1984 – Master of the construction department "Karagandaenergostroy".
1984-1987gg.- researcher of the All-Union Research, Design and Experimental Institute "Giprouglegormash".
1990-1997. scientific, senior, leading researcher of the KazNII ugol (KNUI, Karaganda).
1997 – 2002 engineer, chief specialist, head of the department of the Karaganda branch of the road.
Main research interests:
Industrial transport, conveyor transport, development and design of mining and transport machinery and equipment, railway track and transport, research of transport and technological processes of industrial enterprises.
Main publications:
More than 130 scientific papers have been published, including: 14 copyright certificates for the invention, 5 patents, of which 3 are included in the Web of Science Clarivate Analytics database, 16 SIS, 12 articles in publications included in the list of COXON MES RK; 5 monographs; 6 textbooks recommended by the Academic Council of KSTU; 2 electronic textbooks, the copyright of which is confirmed by the authorized body, etc.
The subjects taught in the academic year are: "Research and design of railways", "Fundamentals of design of transport devices and structures", "Fundamentals of design of industrial railways", "Fundamentals of design of railway stations" and "Technology of development of transport schemes".
Advanced training:
During the period of work at KSTU, advanced training courses were completed and certificates were obtained
- 2002. KazATK (Almaty),
- 2012-UrGUPS (Ural State University of Railway Transport, Yekaterinburg),
- 2012, 2013, 2014, 2016 – KSTU,
- 2017 at the enterprises of LLP "Scientific and Technical Center for Industrial Safety" and JSC "Kedentransservice" (Karaganda),
- 2020.in the Karaganda loading and transport Department of the UD of JSC "ArcelorMittal Temirtau".
Professional competence:
2005 – Chairman of the MES commission in the UNT state program,
2007 – developer of documentation for the opening of a master's degree in the specialty "Organization of transportation, movement and operation of transport".
2012.- Examination of the state project on scientific, technical and economic justification of the trans-Eurasian highway "Khorgos – Aktau port – Eurasia Canal for 2013-2015″,
2017.- Expert evaluation of the research work of KarSU "Improving the efficiency of heat removal in the development of wells by hydrodynamic method",
Contact information: working tel. 56-59-32 (ext. 2051)
Contact phone: 87016152010
Resources of the Republican Interuniversity Electronic Library
Изыскания и проектирование железных дорог(ссылка http://rmebrk.kz/book/2154)
Разработка транспортных проектов (ссылка http://rmebrk.kz/book/1155697)
Mining transport (ссылкаhttp://elib.kstu.kz/elib/document/6841584/)