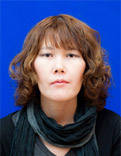 Abildaeva Gulnur Baltabaevna
Faculty of Innovative Technologies
Degree: No
Academic title: Master
Position: Senior Lecturer
Biography
Abildaeva Gulnur Baltabaevna, senior teacher of the ICS department.
In 2001 she graduated from Karaganda State Technical University with a degree in Automated Information Processing Systems and Management.
She has been working for about 15 years. Author of more than 50 scientific and educational works, including 5 textbooks and 3 certificate of state registration for the object of copyright.
Has publications in collections and scientific journals.