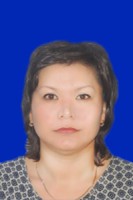 Kaybasova Dinara Zhenisbekovna
Faculty of Innovative Technologies
Degree: PhD
Academic title: no
Position: Senior Lecturer
Biography
Kaybasova Dinara Zhenisbekovna. In 1999 she graduated from Almaty State University named after Abay (KazNPU named after Abay) with a degree in Computer Science and Computerization Manager, a computer science teacher and computerization manager.
Graduated from the DoubleDegree program at the St. Petersburg National Research University of Information Technologies in Mechanics and Optics, Master of Technical Sciences.
In 2015 passed international internship on the project TEMPUS 543808 "PICTET: Development of professional ICT education based on the system of national qualifications in Russia and Kazakhstan", was appointed head of the training center of information and communication technologies.
2017-2020 training in the doctoral program of the L. N. Gumilyov Eurasian National University in the specialty 6D070300 – "Information systems", Doctor of Philosophy (PhD) in the specialty"Information Systems". Scientific research in the field of Data Mining, "Thematic modeling".
Author of more than 45 scientific papers.