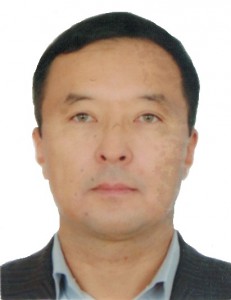 Telephone: mobile +7 771 193 55 33
E-maill : zhanakov.k@mail.ru
(1997 – 1999)  KARAGANDA ECONOMIC UNIVERSITY OF KAZPOTREBSOYUZ
(1986 – 1993)  KARAGANDA STATE TECHNICAL UNIVERSITY UNIVERSITY of the First President of the Republic of Kazakhstan
Work experience:
September 2017  KARAGANDA STATE TECHNICAL UNIVERSITY UNIVERSITY, Senior Lecturer of the Department of SM & T in
June 2011 POWER BETON LLP, plant for the production of concrete goods, Karaganda. Director of the company since its inception. Personally designed, orders shaft equipment, metal molds, made the installation and launch of the plant. Specialization in the production of high-voltage transmission lines SV-105. Power per day 80 pieces, on the bench technology. Production is also mastered. Hollow slabs and other
reinforced concrete. Small concrete products made on the Turkish automatic line NAMTAS.
(2006 – 2011) JSC "Karaganda plant of asbestos-cement products."
Deputy General Director for New Technology 2006-2008 Designed, built and launched a process line for to production of concrete goods: piles, rings, covers of wells, base blocks, cinder blocks, snow retention fences.
Chief Engineer 2008 – 2011 Main responsibilities:
• ensuring the effective operation of asbestos-cement production
• monitoring compliance with industrial safety rules, occupational health and safety at the enterprise
• interaction with authorized state bodies on industrial safety, labor protection, fire prevention safety, environmental protection, industrial
sanitation
He led the development of a new project for the production of clinker-free cement based blast slags. Acting as General Director, gained experience in managing an enterprise with more than 300 people
(1993 – 2006) Karagandastroykonstruktsiya LLP Master, Deputy shops for the production of concrete goods. Gained experience in Production of concrete products and industrial structures and civil purposes Qualifications
I own the procedure for obtaining permits for emissions into the environment, the procedure obtaining a license for the purchase and use of recursors.
Freely own a personal computer as a user.
I have experience in implementing and working with the quality management system according to ISO 9000-2000 standards.
I have six years of experience in the implementation of concrete goods, organization of deliveries of concrete goods by rail transport.
Personally developed costing calculation of all produced reinforced concrete products. Developed and mastered the production of many special types of reinforced concrete, including manufacture of new metal forms on their own.
In 2015 he completed training and engineering personnel Kazakhstan at the leading enterprises of the scholarship program Bolashak.
I have a driver's license cat. "B", private car, driving experience – 20 years