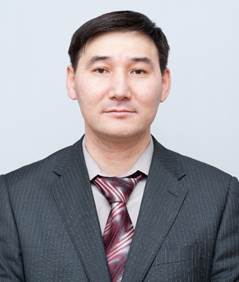 Faculty of Engineering
Academic degree: Master
Position: Senior Lecturer, Department of Nanotechnology and Metallurgy
Biography:
Bukanov Zhanat, 1969. of birth, nationality-Kazakh, graduated from the Karaganda Polytechnic Institute in 1995 with a specialization in "Machines and technology of foundry production".
Bukanov Zhanat  works at the Department of MM and N s 2000. During the work proved to be a conscientious worker, efficiently and skillfully perform their work. The team has established itself as a responsive, hardworking and respectful of others employee. Takes an active part in the scientific work of the Department.
He published 25 scientific articles and abstracts. He developed several manuals and guidelines and received 5 copyright certificates for the invention of the Republic of Kazakhstan. He took part in the development of General education standards.
During his work at KSTU he improved his qualification in 2002 in Almaty at the Republican center at the Kazakh national technical University named after Kanysh Satpayev in the specialty "materials Science and technology of materials", in 2008 he passed theoretical training on the basics of professional pedagogy at KSTU, in 2010 at the Karaganda state University named after academician E. A. Buketov he passed a refresher course on the program 023 "Nanotechnology and new materials: Pulsed technologies for obtaining nanomaterials".
He mastered computer technology, took courses on the study of new computer technologies and work on the PC "Machine graphics: Corel Draw, AutoCAD", "WEB-technology, development of WEB-pages", "the Use of interactive learning tools in the teaching process", "Multimedia tools".
In 2007 he graduated with honors from the master's degree with an academic master's degree in "metallurgy".
Takes an active part in the social life of the University, Institute and Department, is responsible for civil defense at the Institute and the Department, for the development and creation of the Cathedral stands, for career guidance at the Department, for the development of the Department page on the University website, is the curator of the Met-15-5.
Work phone: 8 (7212) 565935
Internal phone: 1082
Email address: heissen69@mail.ru
 Жобалау негіздері мен металлургиялық объектілерді жобалау
Проектирование литейной оснастки
Қарқынды пластикалық деформация әдістерімен қорытпалар мен металдарды нығайту
Информатика бойынша арнаулы курс
Влияние локальных флуктуаций газовой фазы на интенсификацию тепломассообменных процессов в слоевых установках металлургического производства.
Разработка и оптимизация процесса направленной гидрокаталитической десульфуризации полиметаллического сульфидного сырья.
Основы металлургического производства
Информатика бойынша арнаулы курс
Материалтану және конструкциялық материалдар технологиясы
Основы проектирования и проектирование металлургических объектов
Материалдар өндірісінің технологиялық жабдықтары
Материалдар өндірісінің технологиялық процестері
Моделирование процесса химической реакции в системе пористое тело-газовый агент.